Being long-lived and regarded as the eldest brother of Vietnamese contemporary fine arts, Nguyen Phan Chanh was the epitome of an artist selecting his own career path. His artworks which were imbued with national soul made valuable contributions to the collection of humanity.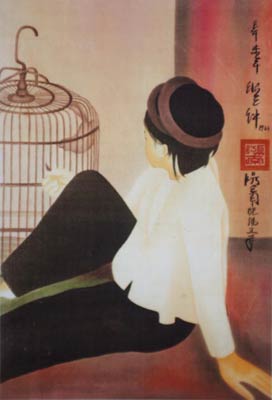 Need money but not depend on… money
From the perspective of Nguyen Phan Chanh's relatives, Nguyen Phan Chanh was able to earn money when he was a child. His mother said to the writer Nguyet Tu (his eldest daughter): "Your father is a good son. Your grandfather passed away when your father was only 7 years old. When your father turned 12, he did Tet paintings and molded the clay into toys which were sold for money by your grandmother."
In 1929, when studying at the Indochina Fine Arts College, Nguyen Phan Chanh took part in the competition for painting stamps of Indochina Postage Stamps. His painting depicting a farmer growing rice won the first prize. He received a large sum of money – 90 Indochina cents. At that time, this amount of money could buy more than 3 tons of rice. After the exhibition in Paris in 1931, Nguyen Phan Chanh's silk paintings became almost "branded" among Western ones. His paintings which were not finished yet were ordered with high prices. They brought him happiness, pride even. However, Nguyen Phan Chanh supposed that everything was not always what it seemed; it entirely depended on his grittiness and great refinement.
According to the writer Nguyet Tu, when Nguyen Phan Chanh was 12 – 13 years old, one time he determined not to sell a painting as he wanted to hang it on Tet holiday that would please his mother and his siblings. Later, when teaching at Buoi school, he flatly refused to sell the painting "Two sisters" to the French General supervisor because that painting was ordered and he had to maintain his prestige. Nguyen Phan Chanh suggested another painting to the General supervisor but he disagreed and asked Nguyen Phan Chanh to redo the painting "Two sisters". Nguyen Phan Chanh firmly said: "I am a painter, not a photographer". Therefore, he was dismissed from Buoi school afterwards.
During his lifetime, although many Western people asked Nguyen Phan Chanh to sell his paintings for high prices, he only sold his paintings for Vietnam Fine Arts Museum though they were fetched low prices, just cost three times as much as the frames.
Silk paintings and the great attempt
When he studied at the Indochina Fine Arts College, Nguyen Phan Chanh did oil paintings like other students. Principal Victor Tardieu did not appreciate his capacity for oil painting. Nonetheless, Victor Tardieu advised him to work on silk paintings due to his remarkable ability to write Chinese by paintbrushes. Afterwards, his outstanding talent for silk painting made a strong impression on Victor Tardieu.
Art-lovers usually felt a sense of relief throughout the smoothness of his masterpieces' material and the elegance of their color. Not everyone knew that Nguyen Phan Chanh had to build the layout very carefully to sublimate his artworks.
In his memoirs, Nguyen Phan Chanh recounted the process of executing his famous paintings. The job sounded hard as building only the layout was so complicated and knotty. When he worked on the painting "Mandarin Square Capturing" (1931), he said: "One time, when I saw the children playing Mandarin Square Capturing, I got curious and started sketching. I asked the mothers to tell their lovely children to sit as the models for me to paint. Building the layout was to arrange the children's positions. There must be at least 4 people divided into 2 sides. I put a 12 year old girl in one side and three other girls in the other side. This deviation was reasonable that created a harmonious combination. How to make 4 girls concentrate on their games… I asked the youngest one to play first…"
As regards the paintings "The child feeding a bird" (1931), Nguyen Phan Chanh also focused on the layout. He said that "I emphasize on the birdcage rather than the bird. Although a part of the bird is hidden, people still realize that it is a nightingale in the cage. The girl who feeds the bird and wears a white shirt and black trousers is front of the bird but people will take notice of the bird jumping in the cage first and then they pay attention to the girl." According to the news, during his lifetime, Nguyen Phan Chanh was keen on birdsong. He composed many poems about nightingales and had a notebook to record the birdsong.
The writer Nguyet Tu recounted his attempt to work on the painting "hide-and-seek" (1939): "At that time, I studied at Dong Thanh school (Hue). Each time I came back home, my father usually asked me to be the model to create the folds on the shirt. Although I was tired, I still sat quietly for my father to paint… I had to sit on tired legs. Sometimes my father encouraged me: "Try a little bit more to help me to finish the folds on the white shirt". I obediently followed him. Looking at the charcoal sketch, I just saw complicated strokes but when the painting was finished, the strokes were so clever. The painting astonished us and we could not realize ourselves in it."
According to the writer Nguyet Tu, her father was very meticulous in his paintings. He had to color multiple layers, wash it after painting and repeated many times. "Paints on silk were not as indelible as oil paints. Neither my sister nor I followed in our father's footsteps as his job was so hard… My cousin became a painter but she was only interested in oil painting. She complained to my father that: "You asked me to learn to do silk paintings.""
Unique habits
Nguyen Phan Chanh had a unique habit compared to other painters. Although he finished a painting, he had to add several lines of poetry (in Chinese) to convey his feelings. The poems could express the paintings' content, but sometimes they were just his personal feelings without any relations to the painting. It could be said that the poems on Nguyen Phan Chanh' silk paintings drew a distinction compared to other paintings. Thanks to this, his paintings were less likely to be copied (because if anyone took notice of the lines of poetry, they would realize his handwriting).
Apparently, he had a rich source of poetic inspiration to compose the poems. His poem was included in the anthology of Ha Tinh poems in the 20th century. During his lifetime, he made friends with plenty of poets and they offered him many of their poems. Huy Can wrote a poem on Nguyen Phan Chanh's 80th birthday and he said: "The youth of artists' soul does not depend on their age. Nguyen Phan Chanh at the age of 80 was still keen on creating the artworks in praise of women's beauty such as the painting "Tien Dung baths" and "Kieu baths"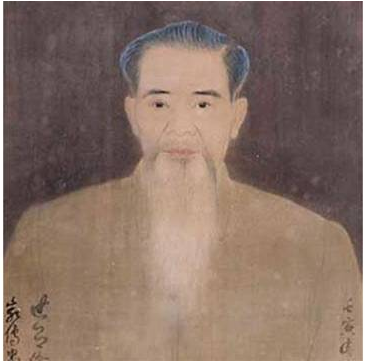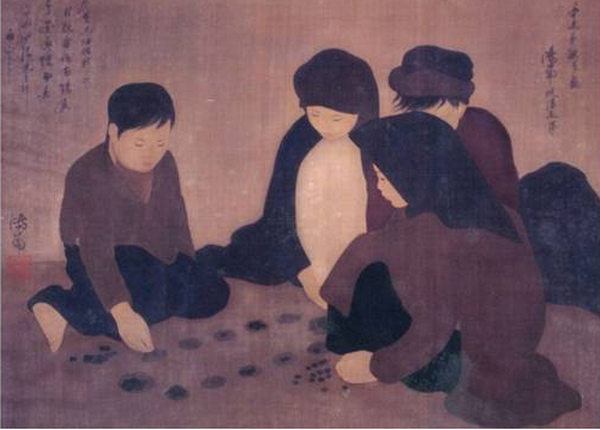 Painter Nguyen Phan Chanh faded the silk by tea. "When painting, he washed the silk many times to blend the paints with the color of the silk… He usually spent several months executing a silk painting. He sketched on the paper and then he put the paper under the silk to copy, hence, his paintings did not have any pencil strokes. The colors covered on the paintings were kept dry. Next, he washed the paintings gently to remove the residue of the colors, kept it dry and then colored one more layer… Afterwards, he washed it, kept it dry and repeated the process until he had a favorite color… The color would leach from the right side into the left side of the silk, thus, the color of one side was exactly the same as that of the other side. Especially, the colors in his paintings never spread out or mixed with other ones. It could not be denied that Nguyen Phan Chanh was not only talented but persistent as well."