In the history of Vietnam Fine Arts, Le Van De is considered as a master of Classicism and Neoclassicism in Vietnam. He was the first Asian painter to be a member of French National Assembly of Artists and he assumed responsibility for decorating the rostrum of Ba Dinh Square on September 2nd, 1945.
When he was a student, he was complimented on his beautiful and speed paintings by his friends. In 1925, after his high school graduation, he took an examination to enter Indochina Fine Arts College (Hanoi) and became the valedictorian afterwards. He was always one of elite students at school. In 1930, he graduated from his college with the highest result and he was recognized as an expert painter in silk painting, lacquer painting and fresco.
In 1931, Le Van De won a scholarship of SAMPIC to study at Paris National Fine Arts College. When studying in Paris, plenty of his artworks exerted attraction of the art world. In 1933, French National Assembly of Artists awarded him the second prize for Fine Art with 3 paintings: "The Fortune-Teller", "the Montparnasse station" and "A young woman applying make-up". His paintings were exhibited in the room No.1 – the room showed the masterpieces of 5,000 talented painters all over the world. At that time, over 40 newspapers mentioned his artworks (according to Indochina Times). In the Paris National Exhibition of Artists in 1934, the French Ministry of Culture purchased a painting of Le Van De – "The family" and displayed it at the Luxembourg Fine Arts Museum.
In addition to lacquer paintings, he worked on many silk paintings (however, he left only a few paintings due to their material). Art researchers supposed that Le Van De had skillful and aristocratic silk paintings which were necessary complements of the shortcomings of Nguyen Phan Chanh's ones.
Having a profound understanding of both Eastern culture and Western culture, Le Van De tends to be a simple rustic in his daily life. In terms of silk-painting techniques, he conducted painstaking research on using natural colors instead of chemical ones with a view to increasing the quality of realism and smoothness of his paintings. Besides, he did not draw in a Chinese style. Instead, he dyed step by step until he got the perfect color. Additionally, he discovered that using much water would make silk less smooth and brushing silk would make it rough; when the silk could not retain the colors, the painter must change to a new one. Thanks to these techniques, his paintings were shiny and soft with sheer fabrics, strong cohesion that created a thin layer of crystal water and made the viewers forget the melancholy of human.
Full name: Le Van De
Stage name: Celso-Léon Le Van De
Born: August 24th, 1906 in Mo Cay, Ben Tre
Died: March 16th, 1966 in Sai Gon
Art style: silk painting, lacquer painting and fresco. (Neoclassical artworks)
Famous paintings: "The Fortune-Teller", "the Montparnasse station", "A young woman applying make-up", "Mary, Mother of Mercy", "The Madeleine", "A sleeping woman".
Some famous artworks of Le Van De: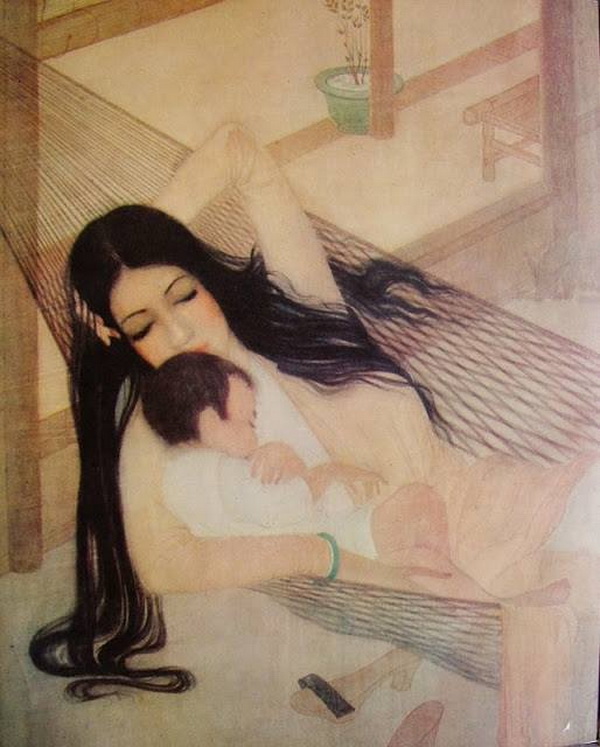 The painting "The family" (1934) portrayed a mother and his child in a hammock and many other characters. It was exhibited in Milan (Italy); the Minister of Commerce (Paris) Lamoureux purchased it to hang at Luxembourg Fine Arts Museum.