Joseph Inguimberty – a French painter was born on 18 January, 1896 in Marseille and died on 8 October 1971 in Menton. During the period between 1926 and 1945, he taught at Indochina Fine Arts College in Hanoi. He was highly appreciated due to his teaching methods which are more practical than the director Victor Tardieu. He and Tardieu evinced a passionate interest in the indigenous culture of Vietnam. His students were stimulated to get access to lacquer paintings as a fine art painting medium.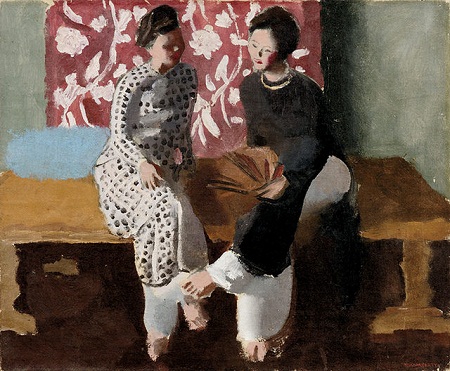 Joseph Inguimberty's painting (1896-1971)
Dean of Painting at Indochina Fine Arts College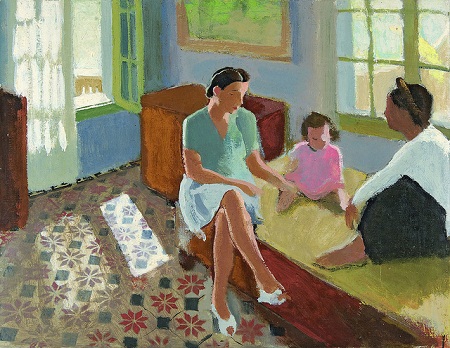 "Janette, Dominique and nursemaid" (Janette, Dominique va ba vu em), oil painting – Joseph Inguimberty.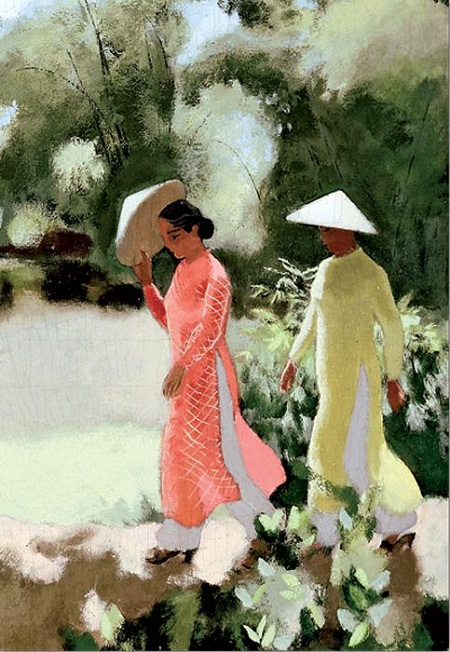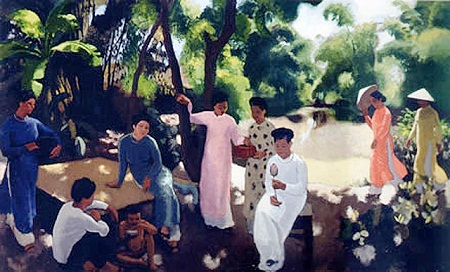 The paintings portray Vietnamese women in the early decades of the 20th century – Joseph Inguimberty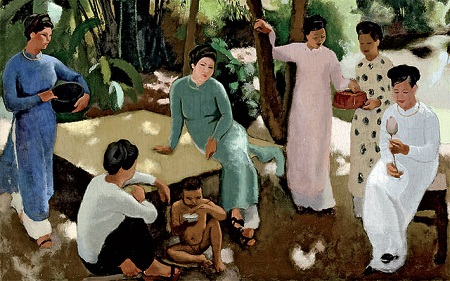 Two separate pictures above had been turned into a large format oil painting by Joseph Inguimberty, named "Family in front of the pond" (Gia dinh ben bo ao)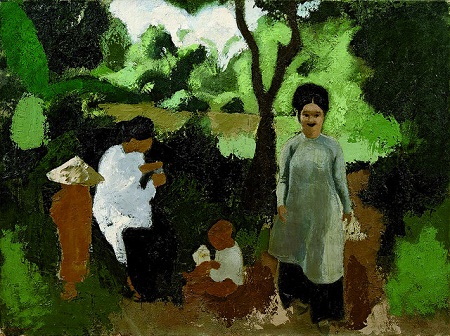 "Women and children" (Phu nu va tre em), oil painting – 1934 by Inguimberty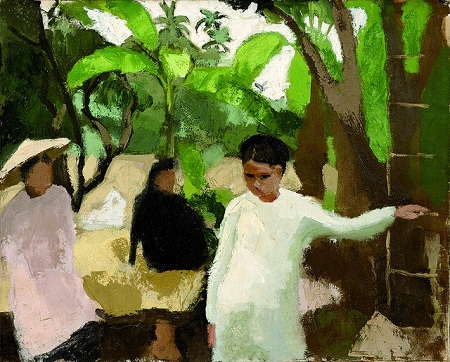 "Women attend meet-ups" (Nhung nguoi phu nu hop mat)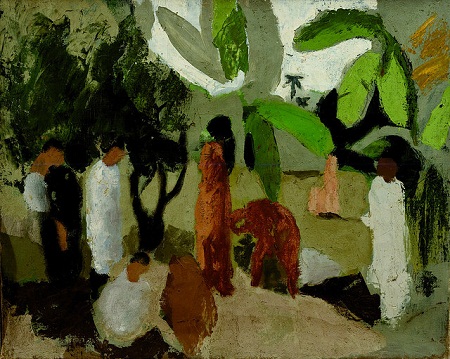 "Meet-ups"(Hop mat)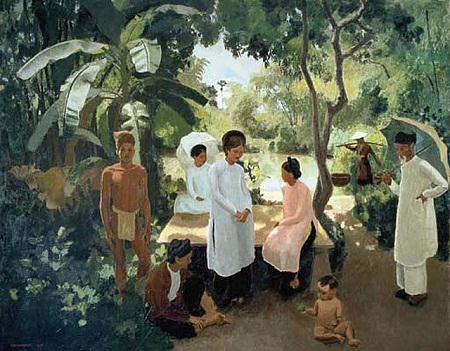 "Northern scenery and people" (Dat va nguoi mien Bac)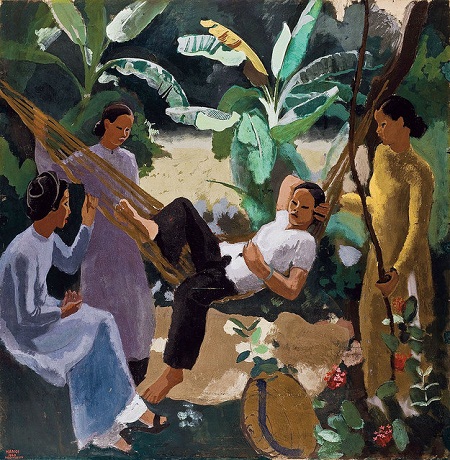 "Woman in a hammock" (Nguoi phu nu nam vong)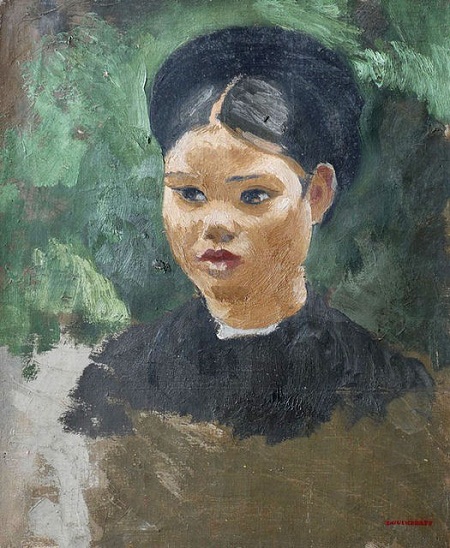 "Northern Girl" (Co gai mien Bac) – 1934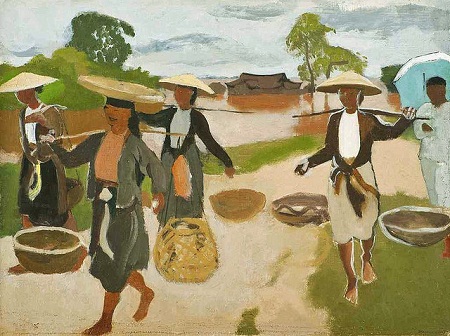 "Go to market" (Di cho)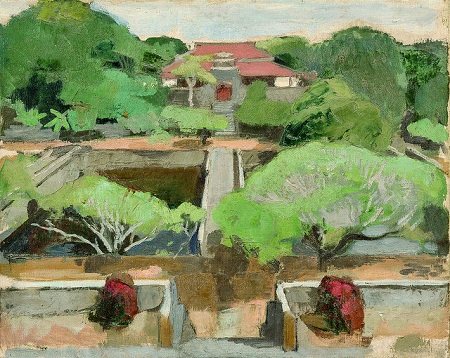 "The Pagoda" (Ngoi chua)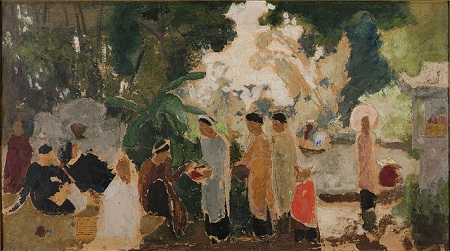 "Women" (Nhung nguoi phu nu) – 1932 by Joseph Inguimberty
Joseph Inguimberty is a French painter at Indochina Fine Arts College. He was admired by his students since he had teaching methods which are practical, little academic and scholastic.
He was fond of Vietnam culture. When living in Vietnam, he executed plenty of paintings of Vietnam's landscapes and people.
Joseph Inguimberty always encouraged his students to do the paintings displaying essentially traditional homeland, meanwhile, he emphasized on colors and lights. Watching Inguimberty's paintings, the viewers could sense the concrete path of lights, especially these paintings are combined with gentle and romantic colors.
Additionally, he was interested in lacquer paint, hence, he motivated his students to perform experiments with lacquer painting to improve the quality of their paintings and turn these handicrafts into an art genre.
In France, Inguimberty used to study fine art and architecture at France National School of Art and Design (Paris). He received some fine arts awards prior to his arrival in Vietnam (1925) and then he was designated as the Dean of Painting at Indochina Fine Arts College.
His most significant contribution to Vietnam Fine Arts may be the experiment (conducted by him and his students) in lacquer painting – a highlight making Vietnam Fine Arts clearly distinct from World Fine Arts.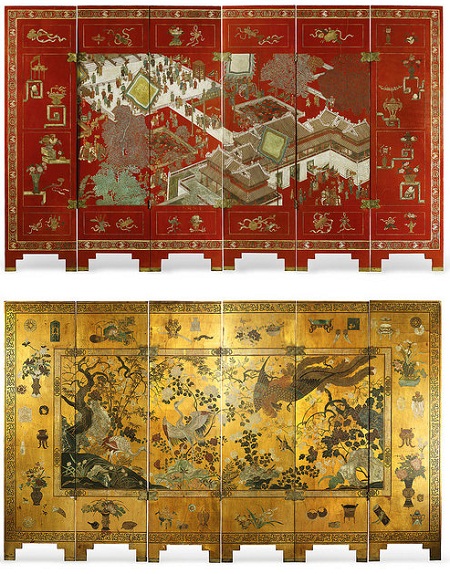 The double-sided lacquer painting above was made up of six wooden panels, one side portrays the procession at Hue Imperial Palace and the other describes the spring with its landscape. It was painted by Inguimberty and his friends at Indochina Fine Arts College.
This painting was auctioned in Hong Kong with the price at 1,100,000 Hong Kong dollars (3 billion VND). It was a product of Indochina Fine Arts College, therefore, it is considered as a painting done by Joseph Inguimberty and his students. Its dimensions are 180x300cm, executed over the period from 1938 to 1940.
Upon his arrival in 1925, Inguimberty was overwhelmed by the beauty and quality of lacquerware in Vietnam. During his 20-year teaching period at Indochina Fine Arts College, Inguimberty together with his multi-generation students created and developed a Vietnamese lacquer area.
Famous Vietnamese painter of Vietnam Fine Arts such as To Ngoc Van, Pham Hau, Nguyen Gia Tri, Nguyen Khang, Tran Van Can and Tran Quang Tran studied lacquer painting art in this school. The painting above is a typically emblematic example of skilled techniques that teachers and students had achieved.
If the fist side has a red background, the second one will get yellow background. This painting depicts a phoenix and two cranes flying between daisies, apricot blossom, tung trees and bamboos in the spring. These are poetic and symbolic images expressing Asian culture.
The contrast of these paintings demonstrates the attempt to reach the balance and harmony. It is considered as a typical example of a period when Inguimberty and his students executed lacquer paintings.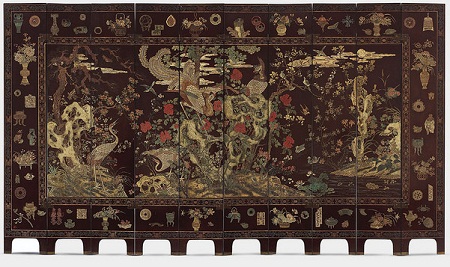 This lacquer painting is also executed by Joseph Inguimberty and his students at Indochina Fine Arts College in 1940. It depicts a phoenix and a few cranes in the spring with beautiful landscapes.
It was auctioned in Hong Kong with the price at 687,500 Hong Kong dollars (1.9 billion VND). It was made up of 10 wood panels with the dimensions: 170×300 cm.