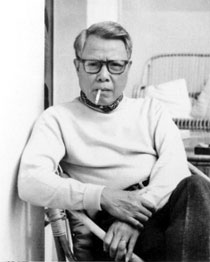 Painter Le Pho 1907 -2001
Despite Le Pho's death in 2001, he had best-selling paintings with the highest price among Vietnamese painters. He was recognized as a highly influential one in turning the old robes into traditional ao dai that closes to the charming ao dai today.
Le Pho was the son of the senior mandarin Le Hoan (according to the historical record, Le Hoan helped the colonial government suppress De Tham insurgent army). When Le Pho was a child, he tended to be introverted. He was tall, thin and quiet with clean clothes, wide-set eyes and soft voice. When studying at Indochina Fine Arts College, Le Pho was always considered as one of elite students in his class. Even he was instructed by Principal Victor Tardieu during 5 school years.
Although Tardieu is French, he wanted his students to maintain his country's cultural identity. He usually encouraged them to choose traditional materials such as silk and lacquer paint. In Le Pho's early years of his art career, he also chose silk as the material to demonstrate his talent.
In the third school year, Le Pho together with his peers Vu Cao Dam and Mai Trung Thu held the first art exhibition. Three years later, being the assistant to Principal Tardieu, Le Pho attended a trade show in Paris. In the following year (1932), he was awarded a scholarship to study at Paris Fine Arts School and then he had a chance to visit many European countries and gain access to art genres. Of all art genres, impressionism somewhat exerted influence on his artworks.
In 1933, Le Pho returned to Vietnam and taught at Indochina Fine Arts College. In 1935, he took part in the interior decoration for Hue Imperial City and became a portrait painter for King Bao Dai and Queen Nam Phuong. A year later, he went to France and decided to stick "his life" in Paris. He met and married Paulette Vaux here – a journalist of Time and Life Newspaper.
In 1938, he held his first art exhibition in Paris. The viewers (most of them are overseas guests) were fascinated by his paintings portraying beautiful Vietnamese women with brilliantly-colored flowers or dreamy ones with books; young women read love letters, girls hang their clothes up, etc.
Because silk painting had certain limitations regarding its dimensions as well as its color that could not convey what the painter "referred to", Le Pho decided to use lacquer paint instead. Moreover, the contents of his paintings were also expanded and became broader. The images of women in his paintings were gradually beyond thousand-year morality and brought the "secularism".
After his first solo art exhibition, Le Pho attracted the galleries' attention. Painter Matisse invited Le Pho to admire his paintings and carefully explained the artistic intention of each one. Additionally, Le Pho made friends with Foujita – a famous Japanese painter in Paris. Afterwards, Le Pho and Foujita held many joint art exhibitions in Lyon, Avignon, Nice, Bordeaux (Paris) in 1957, 1958. In 1941, Le Pho and Mai Trung Thu – his peer at Indochina Fine Arts College organized a joint art exhibition in Alger and their paintings were sold at good prices. In 1963, Le Pho cooperated with Wally Findlay art gallery in the United States to hold some art exhibitions and then this art gallery became his representative to introduce and promote his works to the international art market.
As a matter of fact, someone did not appreciate Le Pho's paintings. Some of them said that his paintings did not reflect much of the characters' inner depth. Even the art critic Nguyen Hung said: "From an art critic's perspective, I do not appreciate Le Pho's contribution in the area of art". Nevertheless, Le Pho had his own simple and clear concept: "My paintings are to make people interested and enable them to hang on the wall". In fact, many people were keen on Le Pho's paintings as they reflected the refreshness in their eyes. It's the reason that lemon is his favorite color.
Despite having resided in France since he was 30 and lived there until he died (when he was 94), he was still a great patriot. In 1946, the delegation of President Ho Chi Minh and Comrade Pham Van Dong conducted a negotiation in France. At that time, Le Pho, Philosopher Tran Duc Thao and Doctor Tran Huu Tuoc made donations to the delegation. Although Le Pho's paintings were fetched at fairly high prices, he wanted to offer dozens of them to the Musem of Hanoi with a requirement that they must be carefully preserved.
If anyone ever attended fine art auctions at Sotheby's auction house in Hong Kong, they would have seen Le Pho's paintings have a dominant position compared to those of other Asian artists, and if compared to Vietnamese ones, his paintings were actually more appreciated and sold at higher prices. Take the painting "Girl with green scarf" as a typical example, it was fetched 100,000 – 120,000 USD in September, 2009 and became the third most expansive painting at that time (two most expensive paintings were done by overseas painters). Last October, the painting "Christmas" (painted by Le Pho in 1941) was sold for 200,000 USD at auction in Borobudur's auction house in Singapore.
So why were Le Pho's paintings fetched highest price compared to those of other Vietnamese painters? The art critic Nguyen Hung supposed that the principal reason was that "they are on a well operated commercial channel." It was Wally Findlay gallery in the United States – an almost exclusive gallery of Le Pho's paintings with thousands of his artworks. It had effective proganda techniques. Perhaps it aimed at the psychology of art lovers because Le Pho was one of the first painters of Vietnam Fine Arts and he was subject to "less attention" in the domestic market. Therefore, Wally Findlay gallery believed that the longer his paintings were preserved, the more expensive they became.
Currently, businessmen are raising hope to make Le Pho's paintings "connect" widely with the domestic art market in the near future. At that time, one of his paintings was fetched up to $ 1 million but now it is rather difficult to sell his painting for 50,000 USD.
During his hard-working period of 70 years, painter Le Pho bequeathed a large legacy including thousands of paintings. Today apart from some of his paintings in Wally Findlay gallery and private collections, the rest of his artworks are displayed at Paris' Museum of Modern art. In Vietnam, there are about 20 paintings, except some paintings previously donated to the museum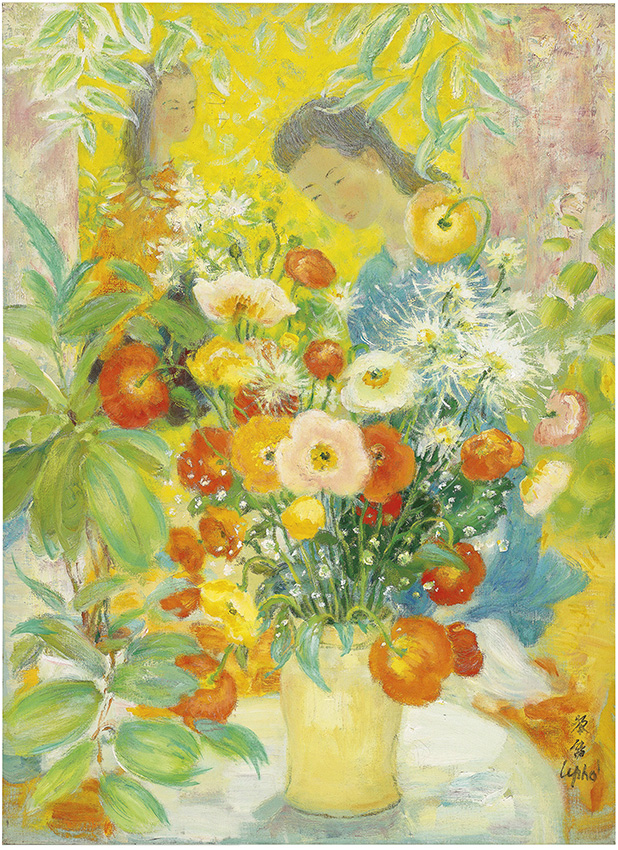 Sparkle Le Pho
The artworks of Le Pho and his peers in 1940s: Mai Thu, Vu Cao Dam, Le Thi Luu, etc did not reflect Eastern – Western art in a conventional way but linked symphonic traditions of Impressionism, a combination of two styles, two humane universes. The reason made French fine arts and then the US fine arts recognize the contribution of Vietnamese painters was that they did not deny their roots like a few Japanese artists: Nishimoura, Okamoto, etc coming from the same Paris school. Achieving success is not easy for first Vietnamese painters in the West, after World War. They had bitter experiences but then they attained their position of Eastern-Western visual arts and Le Pho was a prime example.
In 1932, at School of Fine Arts (Paris), Le Pho was confused and doubted all of his previous art achievements when gaining access to some art genres such as Cubism, Surrealism and Abstract Art. The remnant of his confusion was the landscape painting Fiesole (oil painting, 1932) which characterized Western and "Paris" features. Afterwards, he travelled around Europe (from France, through Belgium, Netherlands and Italy) and visited Bruges museum (Belgium), Cologne museum (Germany) and Florence museum (Italy). When getting access to Renaissance art, Le Pho discovered remarkable coincidences of fine art between classical Western fine art and traditional Chinese fine art. On his arrival in Vietnam in 1934, he explored the fine arts of Tong dynasty and Ming dynasty, etc on his way from Vietnam to Beijing. This pilgrimage paved the way for a fine art process of over half a century including 2 phases:
1. Classical phase (silk painting): From 1934 to 1944, the paintings Seated Lady (1934) and Birds on the roof (1937) were influenced by the fine art of Tong dynasty with elegant, smooth and soft brushstrokes, flat space, copper-colored pieces and sophisticated strokes. The paintings were not only charming due to dedicate brushstrokes but also strong on account of unique colors (camaieu) that created pure atmosphere and brought the social identity of Vietnam as well as Confucian ethics in the early century.
A few years later, Le Pho changed his artistic intention: The painting Mother and Child (1938), A young woman with lotus branch (1938), A young woman with roses (1941), Woman combing her hair (1942), etc. were the artworks of the Puritan Age combining Chinese art and Italian fine art: elegant and dedicate brushstrokes, two-sided space. His paintings portrayed religious women with a solemn expression, an appearance like Angel Botticelli's, oval face, black hair, Modigliani neck; they were melancholic and mysterious. Whether hiding behind the Virgin Mary or appearing nude, the women in Le Pho's paintings always looked thoughtful and contemplative in the posture for meditation.
In the silk-painting period, everything leans in the classical atmosphere. He used light and cool colors combining with clear boundaries: black and white, heaven and hell. This may be considered as the "primitive" period of a painter. Meditation and religion favours turned the women into the purity. Even "nude but not nude", "beside Creator" (as quoted by Pham Duy), an invulnerable maiden is lost in Eden, melancholic and upraised. The frugality and the purity make sad mood "be alone and have to love myself" of a concubines left in an empty room, full of frozen wind with her thin clothes.
2. Romantic Period (Oil painting): If you have the opportunity to ask the painters Le Pho and Vu Cao Dam: Why did they change silk painting into oil painting? Both of them would answer: Because silk paintings had limitations regarding their dimensions, color and volume that created difficulty in depicting what they referred to. So after silk-painting period, what did Le Pho want to draw and show? He wanted to escape from the morality: women in this period gradually got rid of thick clothes to go into the world of romantic love, meanwhile, his paintings also turned from the dark to the light.
Although Le Pho got access to Impressionism when he first studied at Fine Arts College, until the 1940s, he completely got rid of Classicism to step into the blurry-colored universe. In the Age of Impressionism, Cézanne opened a new world of the volume and Monet created the five-color horizon and lights. Le Pho left everything behind including his 10-year process of silk paintings and 10-year process of "the old path with the coach and the free soul".
Until the 1950s, Le Pho's brushstrokes became transparent. Regardless of the pure color overload of Matisse, Le Pho crossed from Fauvism to Impressionism and stopped at Premonition (Nabis). Despite gaining access to Bonnard, Dufy and Matisse fine arts since 1937, in the later period, Bonnard exerted a strong influence on Le Pho's paintings and made them immerse in the yellow world of Bonnard. Three colors including turquoise, marble and yellow were recorded as crucial factors of Le Pho's career. Eventually, yellow was kept as the center of the space reflecting more lights and it was considered as the main color of Le Pho: yellow lotus, yellow flowers, yellow water, yellow leaves, yellow clouds and yellow shirts, etc. Yellow misses Bich Khue, "Yellow! Yellow! Immense Autumn."
The interaction between Impressionism and Premonition immersed in the romantic atmosphere, but the shape was only specified form of the space and lights in colors. The women were faded in the paintings "fog on the face, snow on the body" They had the exquisite appearance of Hanoi girls since Tu Luc Van Doan age. Unlike beautiful, clear and delicate portraits, they were decent and became the symbol of beauty: a fragile, faded and melting image in the space and this space was also surreal. The paintings Mother and Child (1960), Rumination (1968), A young woman in Green (1968), In the Garden (1970), etc. had two-sided space with the vibrations of colors. The colors used in these paintings were warm colors, from lemon to marble color and then cerulean. They were mixed in a dreamy world and fooled visual even in a moment for calling the eternity.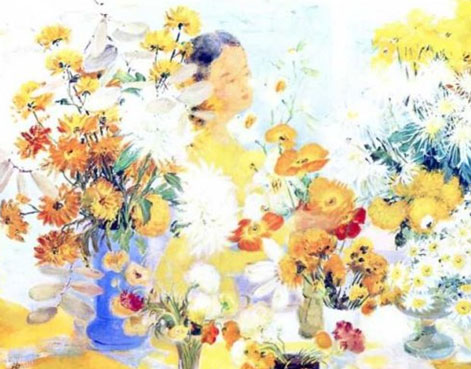 Le Pho was born on August 2nd, 1907 in Ha Dong. His father is the senior mandarin of Northern Vietnam. Le Pho was a student of the first class at Hanoi Fine Arts College in 1930.
1928, he and painters Vu Cao Dam, Mai Thu held a joint art exhibition in Hanoi.
1931, he was appointed as the assistant to Professor Tardieu when attending a trade show in Paris.
1932: He won a scholarship at Paris Fine Arts College and afterwards, he travelled around Europe and attended art exhibitions in Roma.
1933: He returned to Hanoi and became the professor at Hanoi Fine Arts College and art exhibitions in Hanoi.
1934: He went to Beijing to discover Chinese fine art.
1935: He painted portraits of King Bao Dai and Queen Nam Phuong and decorated the inner palace.
1937: He attended the international exhibition in Paris as the Art Director of Indochinese section and from then on he lived in France until his death.
1938: He held his first art exhibition in Paris and afterwards, he took part in many art exhibitions all over the world.
 6/1947: He married Paulette Vaux – a journalist of Time and Life Newspaper. They had two sons: Le Kim – a photographer and Le Tan – a graphic artist.
 1950-1954: He became a fine art consultant of Embassy of the Republic of Vietnam in France.
1857 – 1958: He and Foujita organized a joint exhibition in Lyon, Avignon, Nice and Bordeaux.
Le Pho's artworks are displayed in Paris Museum of Modern Art, Oklahoma City Museum of Art (USA) and private collections, mostly in USA.
Painter Le Pho died in December, 2001 in District 15, Paris
Other famous paintings executed by Le Pho: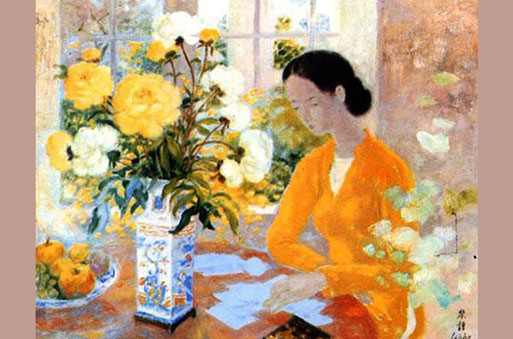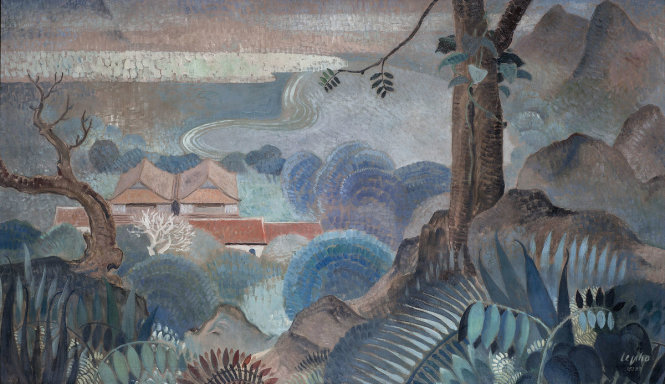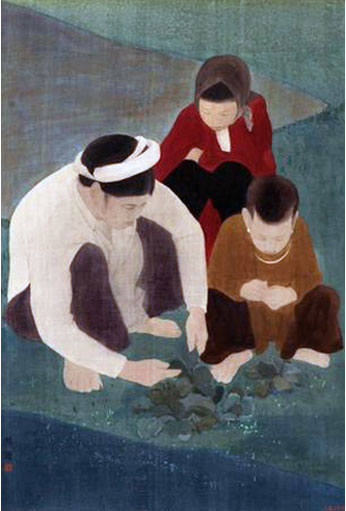 Le Pho's painting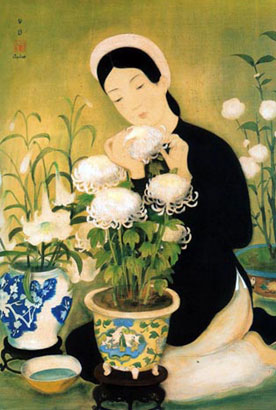 Le Pho's painting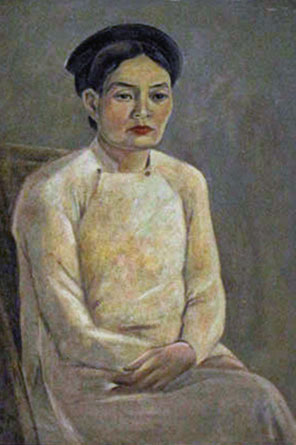 Le Pho's painting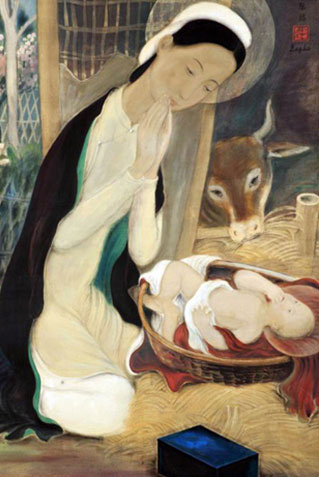 Le Pho's painting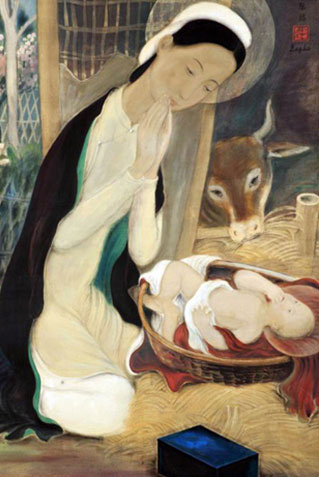 Le Pho's painting (This painting was highly influenced by Eastern-Western style)