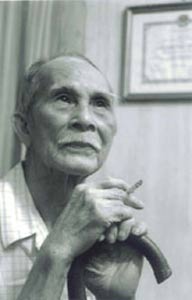 Born in 1914 in Hanoi
Died in 2006
Nationality: Vietnamese
Fields: Fine Art, oil painting, teaching (at the Indochina Fine Arts College)
Artworks
• A young woman
• Read the news of victory
• Girl with the hat
National Prize for Literature and Arts
Luong Xuan Nhi (born on April 10th, 1914 and died in 2006) was a Vietnamese professor, teacher and painter. He was famous for his paintings of young women, landscapes and daily scenes expressing the idyllic beauty and richness of Vietnamese soul.
He studied with the painters Nguyen Do Cung, Luu Van Sin and Hoang Lap Ngon at the Indochina Fine Arts College. He graduated from this college in 1937 (class 7, 1932-1937).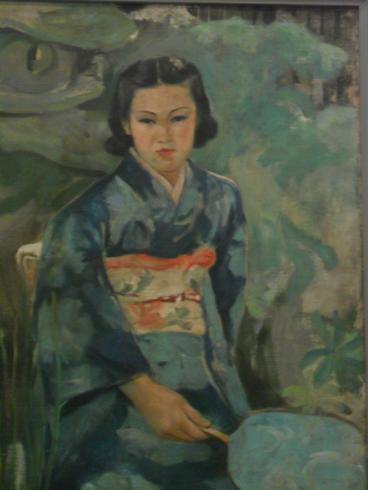 In 1942, Luong Xuan Nhi went to Japan and created many paintings of young women and landscapes in Japan which were highly appreciated due to their colors and style.
From 1955 to 1981, he taught at University of Fine Arts (Vietnam). His artworks were displayed at the Fine Arts Museums in Vietnam, Paris, New York, Tokyo and in many private collections inside and outside the country.
Style
Luong Xuan Nhi was the pioneer to take oil painting to Vietnam. His oil paintings and silk paintings were imbued with Eastern spirit.
He said: "I (Vietnamese painter) learnt how to draw, describe shapes, lights and colors according to the immediate reality from the West when studying at the Indochina Fine Arts College. The Eastern art got rid of details and just described shapes and colors according to the painter's personal perspective. Capture spirit of the landscapes and people. "
Painter Luong Xuan Nhi was keen on the blend of blue in the nature and he wanted to put it into his rural landscape paintings. Therefore, he was called blue painter. Due to his success in painting young women, he was also known as painter of beauty. He no longer kept his best portraits of young women. When he was drawing, many people watched; afterwards, they bought his paintings immediately after he finished them. It was because the buyers admired the elegance and gentleness of Vietnamese women through his brushstrokes.
Artworks
Take a rest on the stream (silk painting, 1936)
A stall by the roadside (silk painting, 1937)
Bamboo grove by the bridge (oil painting, 1938)
Family fishing (silk painting, 1938)
Girl with the hat (silk painting, 1940)
Palm hill (oil painting, 1957)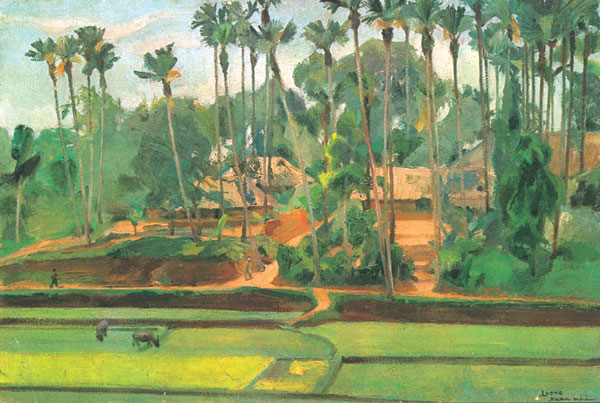 Quote:
At the end of his life, painter Luong Xuan Nhi said: "I received all but still find a distinct style: elegant, gentle, realistic, dreamy, fresh, impressive and surreal with Vietnamese beauty. After his success in art during the period of over half a century, he concluded that: "The painter must have the consistency of concepts, ideas and emotions in art; never cheat yourself. Self-delusion is to cheat and insult others. A true painter must keep an enduring respect for the art.
A French art critic commented that: "The Eastern beauty shimmered in Luong Xuan Nhi's paintings.
Painter Nguyen Do Cung supposed that: "Luong Xuan Nhi's artworks were beautiful and standard, gentle and lovely.
Prize and Award
When studying at the Indochina Fine Arts College, he won a silver medal (1935), a gold medal (1936) and a Premier League – Honor Award (1937) of SADEAI.
Painter Luong Xuan Nhi attended art exhibitions in Vietnam and other countries from 1936.
In 1938, his painting "A stall by the roadside" was collected by World Headquarters Museum (New York)
Thanks to his contributions, he was awarded the title People's Teacher, National Prize for Literature and Arts and was listed in Vietnamese encyclopedia.