A talented and weird painter
I will never come back regardless of the earthly life.
Duong Bich Lien (1924-1988) devoted himself to art and forgot his private relationships. He was a single man with a self-contained life and almost isolated from the outside world. When he awoke to his lonely life and wanted to get married, he was too old.
Nevertheless, paradoxically, he also had a few secret affairs in his emotional life. At the end of his life, his health rapidly deteriorated due to harmful effects of alcohol. Over a few days prior to his death, he drank heavily without eating anything. He died as if he was dreaming. It was not until his neighbors knocked on his door and did not hear anything from him that his death was known.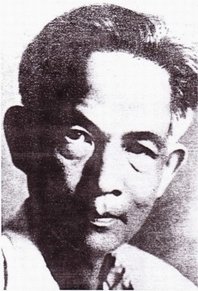 Born in a rich and powerful family, Duong Bich Lien was the only son of a mandarin. However, at the age of 17, he had a passionate interest in art and he decided to get rid of his wealth to pursue a free life. In 1941, he met painter Hoang Lap Ngon who just finished designing his own coach and named it "Nha Lan Me Ly". Hoang Lap Ngon used this coach as a means of transport to travel around to paint the scenes. He offered Duong Bich Lien a chance to get on the coach and travel around Vietnam. However, the coach "Nha Lan Me Ly" was catched by the officers when it rolled up to Thanh Hoa and then Duong Bich Lien was sent back to his family. After that, he decided to enroll in the Indochina Fine Arts College. From then on, he took steps to fine art.
With such an eccentric and carefree lifestyle, Duong Bich Lien was a lonely and weird painter, "Life does not understand me and I do not understand it, too, hence, I want to be introverted." Because Duong Bich Lien had a stutter, many of his words were not clear and he had to repeat many times. Every single time he came up with a saying or a quotation, he spoke with a stutter and he repeated many times within a few minutes that made the listeners remember his words clearly such as "The better you play, the better you draw", "We lost everything other than ourselves", "Go and come have the same meaning", "There is no improvement in art" and "The more troubled life get, the more abstract art become".
During his life, Duong Bich Lien usually visited Bui Xuan Phai; they were students at the Indochina Fine Arts College. They understood and sympathized with each other's perspective in art even when they had different points of view.
Duong Bich Lien was terribly "allergic" to strangers or they did not get on well with him. If Duong Bich Lien was talking with Bui Xuan Phai and another person came by accident, he would leave quietly. Each time he came, he always stole to look through the window to check whether or not Bui Xuan Phai had guests. If there were any strangers in Bui Xuan Phai's house, he would creep back home.
He was not arrogant, it was his character. I thought that he was not arrogant because at that time, apart from those in the art world, most of people did not know Duong Bich Lien or they mistook him for a famous female singer because his name was the same as her.
One time, Duong Bich Lien could not understand why Bui Xuan Phai talked with the guests who were not on a par with Duong Bich Lien and he said: "I could not understand why you could bear talking with those useless people. Moreover, you could not only listen to their nonsense but concentrate on painting as well." Bui Xuan Phai said with a gentle smile: "You do not know that all of my guests became models for me to draw." That was the reason Bui Xuan Phai painted thousands of portraits of people of all classes with different jobs.
Duong Bich Lien made an impression on listeners due to his knowledge of fine art. He supposed that fine art had its own world to express private emotions. Each artwork must have a distinct soul regardless of people's interest and understanding. He painted only what he loved and pondered over it. In addition, Duong Bich Lien's artistic intention was under the profound influence of the theories he studied for and most of them were French books. Perhaps, it made him become unapproachable. He painted much more slowly and harder than Bui Xuan Phai. One time he said: "When I painted a young woman, I had to have a desire for her over the first few days to execute a beautiful painting." It meant that he was interested in painting only what he loved.
Duong Bich Lien's best composing stage was in the 1960s and 1970s. In those years, he was eager to send his artworks to exhibitions, but they were soon eliminated, such as the paintings "Hao" and "Uncle Ho talking to a National Defense Corp". After being eliminated, the second painting was not seen or mentioned. It depicted Ho Chi Minh talking to a National Defense Corp in Viet Bac war zone. It was eliminated as Duong Bich Lien drew the corp to close his eyes when talking to Uncle Ho. Nonetheless, Duong Bich Lien explained that the corp was extremely happy so he closed his eyes. In other words, the corp was fascinated by Ho Chi Minh' words. However, at that time, his explanation was unconvincing because the judges supposed that while Uncle Ho was talking, the corp slept. That was the reason the painting was eliminated at once. Duong Bich Lien was said to be sad and depressed due to the experts' negative attitudes towards his paintings. Therefore, at the end of his life, it seemed that he had no interest in painting. He fell into depression and almost gave up painting without any excellent artworks. In 1984, the government officially invited 4 legendary painters "Sang, Nghiem, Lien, Phai" to hold an exhibition but Duong Bich Lien refused. The main reason was that there were not any artworks left in his studio. He sold all of his paintings to buy bottles of strong wine.
I remembered the last time Duong Bich Lien and Bui Xuan Phai drank with each other. That day he came from afternoon, Bui Xuan Phai told me to buy white wine twice for him and Duong Bich Lien to drink. Duong Bich Lien drank too much as he talked more and more until 2 A.M. I realized that Bui Xuan Phai was tired to death so I led Duong Bich Lien to stand up and said to him "Let me take you home". At night, nobody was on the street; just two of us led each other. He put one hand on my shoulder while the other hand was still holding his hat. On the way, I told him that I wanted to have one of his paintings for collection. Duong Bich Lien seemed to be sober, he told me as if he was scolding me: "If you are a painter then never think of collecting paintings of another painter, because if you admire his art then you shall never be able to paint a nice work. Being a painter, you needn't to be jealous of any other painters and if you do, you should be jealous of Gauguin's or Van Gogh's. Only with that spirit then you may improve yourself".
That night, I saw off Duong Bich Lien to Ba Trieu slope. After that, he told me to let him go home by himself because his house was right below the slope. I stopped and looked to the inclined gait of the painter who had been considered one of the four legendary people "Sang – Nghiem – Lien – Phai" with first-order reputation in Vietnamese painting circle. The last image of Duong Bich Lien was a drunk walking disorderly and hiding gradually under the dip slope of Ba Trieu street.
Watching remaining works of Duong Bich Lien, people can see that the theme of Girl's portrait was considered the most successful theme and the idiom of admirers "Pho Phai – Gai Lien" (Phai's Streets – Lien's Girls) had confirmed that.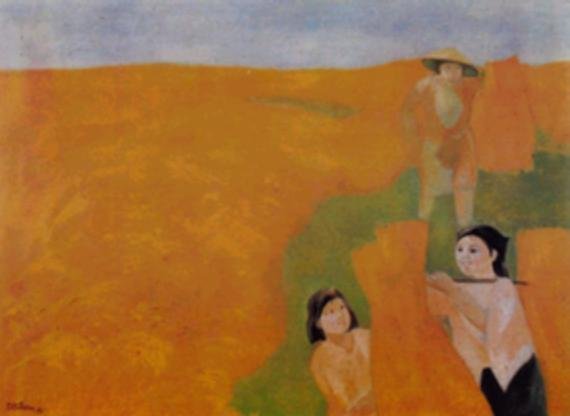 Take a view of Duong Bich Lien's artworks, it was realized that his paintings regarding Portraits of young women were considered as the most successful ones. Prior to his death, Duong Bich Lien shared his wish with his friends that: "Later on, in the day I go in the underworld, I do not want to see any adults. I want to have two kids, one boy and one girl, dressing correctly to escort me to the last place. Only two kids follow the horse cart carrying my soulless corpse to the cemetery, no adults shall follow us". But when Duong Bich Lien died, people could not follow his wish. Several years after Duong Bich Lien's death, film makers rebuilt all the details of his wish: two kids, dressing in Western style, walking behind the horse cart which was carrying the coffin. They scattered petals along the road in the atmosphere of the autumn. The film was titled "Silent yellowness"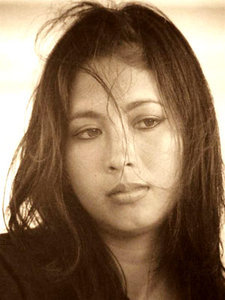 Mai was known as the most beautiful girl in Hanoi at that time (1982). She was also the model for many legendary painters to paint portraits such as Duong Bich Lien and Bui Xuan Phai. Painter Duong Bich Lien used to hopelessly love her.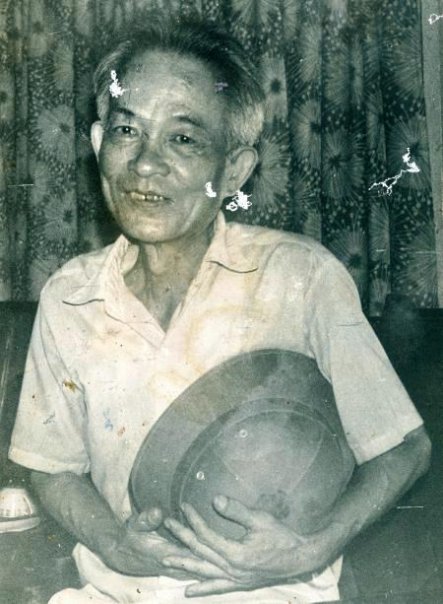 Over the first period of the Liberation of South Vietnam, he visited Saigon and was astonished that when he went to the area of dissipated people, all girls ran away from him. Afterwards, he realized that his hat (people in Saigon did not wear that kind of hat at that time) made the streetwalkers mistake him for the official on patrol.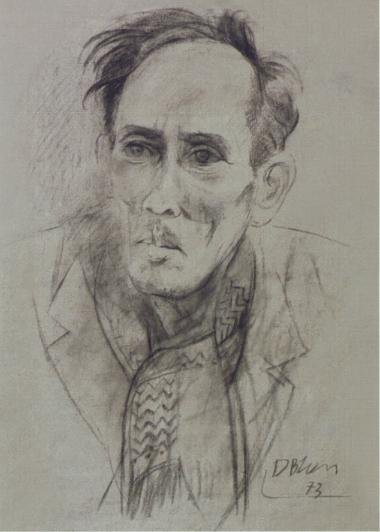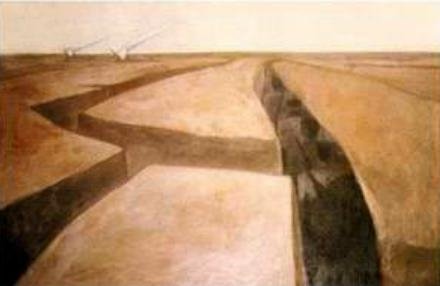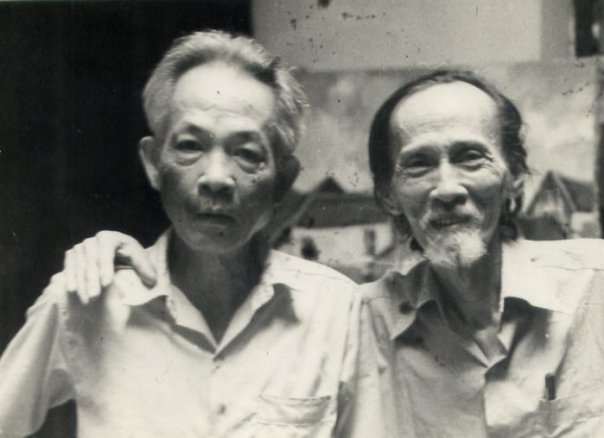 In his lifetime, Duong Bich Lien did not have many close friends apart from Bui Xuan Phai and Nguyen Sang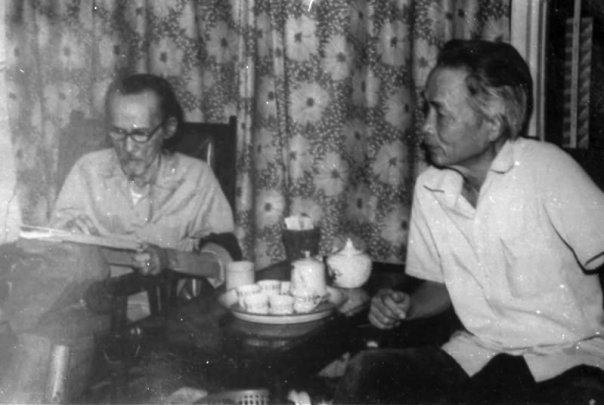 Duong Bich Lien disliked being photographed. There were only a few photos of him. In the photo above, the first people to sit down were Nguyen Tu Nghiem, Nguyen Ba Dam, Bui Xuan Phai and Duong Bich Lien. The person who was standing was Duc Minh.