Mai Trung Thu left a great wealth of spiritual values with gentle paintings such as Kisses, Happiness, Longevity and Affection. Obviously, his artworks' title made people feel his optimism and romanticism in Vietnamese Modern Graphics.
Biography
Mai Trung Thu was born in 1906 in Do Nha village, An Duong District, Kien An Province (Tan Tien commune, An Duong District, Hai Phong). His grandfather is Mai Trung Que – a mandarin was appointed to an important post. His father is Mai Trung Cat – the governor of Bac Ninh; he was awarded the title Baron by the French government.
In 1925, Mai Trung Thu became a student of the first class (with Nguyen Phan Chanh, Le Van De, Le Pho, Nguyen Cao Luyen) of the Indochina Fine Arts College. It was the only fine arts college for Indochina students; Victor Tardieu was Principal and he was not only a competent teacher but also a great French intellectual.
During the school years at the Indochina Fine Arts College, Mai Trung Thu was interested in oil paintings which depicted scenes of Vietnamese rural life at that time and then he chose silk as the material to execute valuable paintings. His paintings featured light colors; people and landscapes in his paintings were as bright as those of To Ngoc Van's paintings.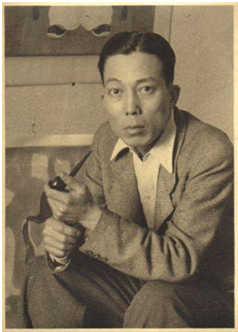 In 1930, after graduating from the Indochina Fine Arts College, Mai Trung Thu was appointed as painting teacher at Hue High School for the Gifted. At that time, his talent in silk painting was flaunted. He created a large number of artworks characterizing elegant women in Hue, stunning landscapes by Huong river and curved roofs of the mausoleum. The period of 6 years in Hue Imperial City gave him deep memories and turned him to an influential position in Vietnamese Contemporary Fine Arts.
In the 1930s, along with other painters, Mai Trung Thu attended exhibitions in many countries around the world such as Italy (Rome 1932, Milan 1934, Naples 1934), Belgium (Brussels 1936), USA (San Francisco 1937) and France where he settled later. After taking part in Paris trade show in 1936, Mai Trung Thu decided to live and work in Paris – the city of light which attractied masters all over the world at that time. During decades of living and working in Paris, his main inspiration was young women, children, landscapes, cottages and temples in Vietnam.
In 1974, after living abroad for 38 years, Mai Trung Thu returned to Vietnam with many other artists including the sculptor Diem Phung Thi (Mai Trung Thu's student) at the invitation of the government of the Democratic Republic of Vietnam.
In 1980, he died of cardiovascular disease at the age of 75. His corpse was buried at the foot of a mountain close to Paris.
Mai Trung Thu's career could be divided into 2 main stages: His classical artworks created in the 1930s in Vietnam and Paris – the city of light focused on young women. Although Mai Trung Thu was a close friend of Le Pho, his artistic intention was different from Le Pho's. People felt the majesty and nobility in Le Pho's artworks but they sensed the romanticism and dreaminess in Mai Trung Thu's paintings. Mai Trung Thu created his own identity which was distinct from that of To Ngoc Van and Tran Binh Loc – the painters were keen on describing elegant women in Hanoi in the 1930s. In 1936, all of them attended the exhibition held by Annamese Association for the Encouragement of Art and Industry (SADEAL). They painted modern women in Hanoi wearing lemur shirts with their hair parted deviation. The model "short shirt, hard body" with dreamy eyes attracted Mai Thu's brushstroke.
Mai Trung Thu's artworks
Mai Trung Thu made substantial contributions to the diversity of contemporary silk painting. His favorite theme was women, children and daily life combining with Vietnam's cultural identity. He placed shimmering colors of Impressionism on the silk without integrating into its aesthetic attitude. His artworks displayed in many exhibitions all over the world significantly contributed to build the reputation for Vietnamese Contemporary Fine Arts in the West – the center formed art movements throughout the history of humanity.
1. Theme of women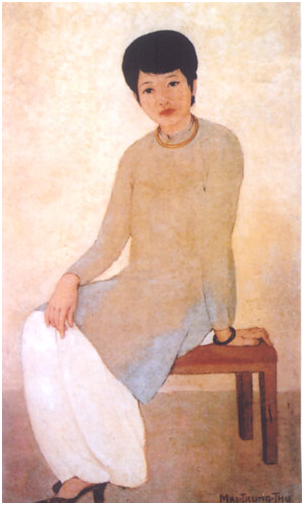 Mai Thu's painting of young women expressed the beauty of femininity, grace and elegance with slender and lovely figures, especially the eyes. The eyes in his paintings were considered as the window of a melancholic and sentimental soul. The characters in his paintings had sad eyes which made the viewers always miss them.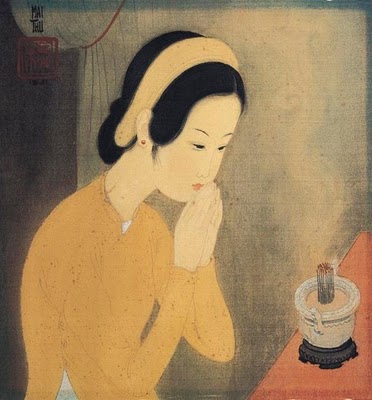 In the exhibition in 1967, the theme of women attracted him during his chool years at the fine arts college. However, the theme of women with dreamy eyes was outdated in France. Nevertheless, the images of Vietnamese elegant women could be seen in the silk paintings: The female musician blowing a whistle, Affection, The girl holding a cup of tea, Make-up, The woman by a red pillow, Silence, Girl with roses.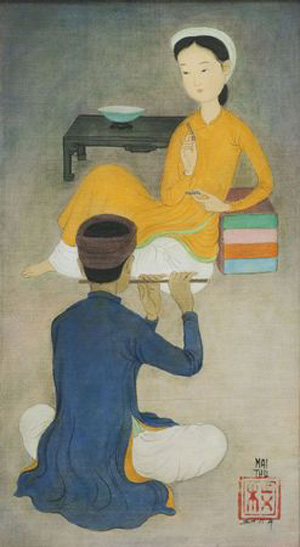 Under the influence of neoclassicism along with the graphics, Mai Trung Thu devoted himself to create the paintings of young women. His brushstrokes were neither complicated nor religious but expressed a gentle, romantic and fragile soul.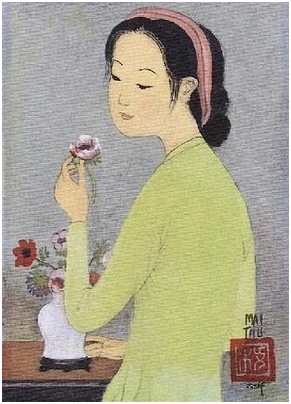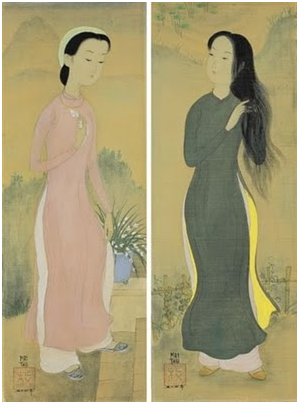 To Ngoc Van – the painter left great paintings of young women later commented on Mai Thu's artworks: "… The painting depicting a young woman with her watery eyes as if she would cry captured viewers' attraction." The contemporary painter Tran Van Can also argued that: "Nobody could draw young women with bright eyes as beautiful as Mai Trung Thu did through the silk painting "The girl at the funeral (1935)". Apparently, Mai Trung Thu got rid of all details to concentrate on painting watery, melancholic and dreamy eyes of gentle and elegant women.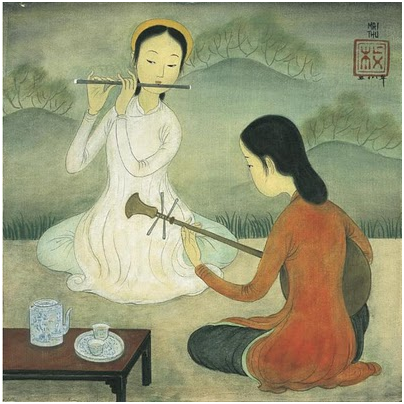 2. Children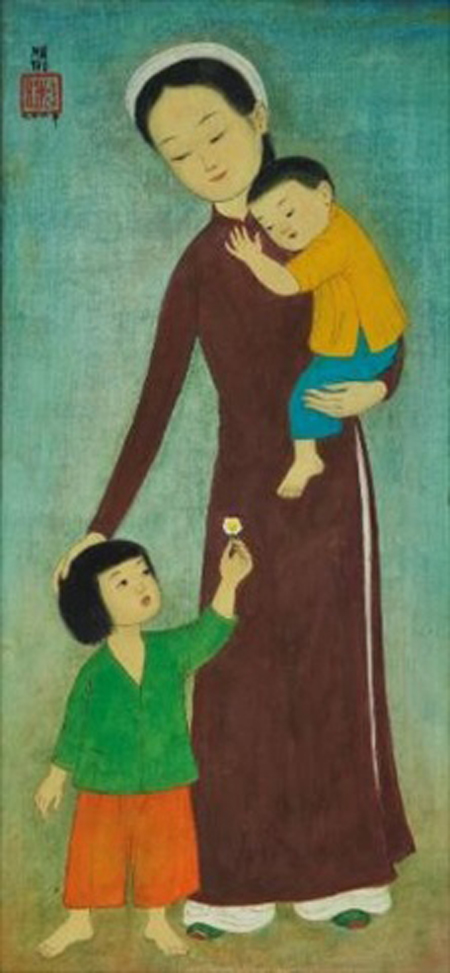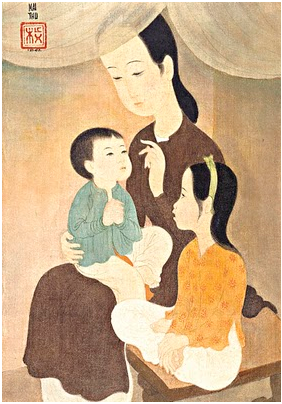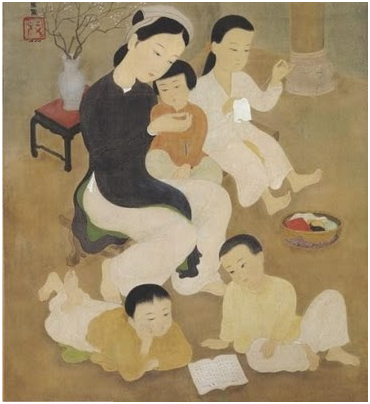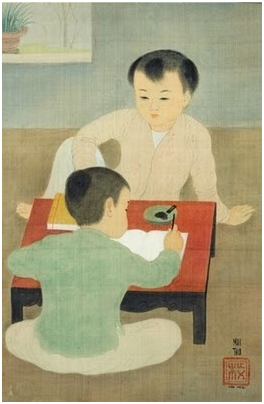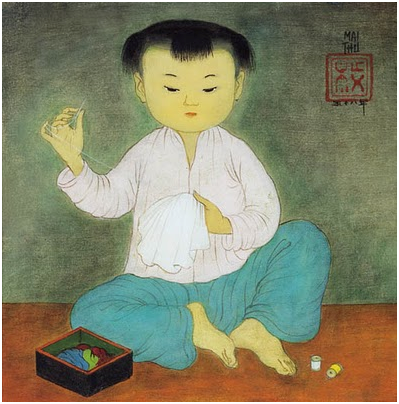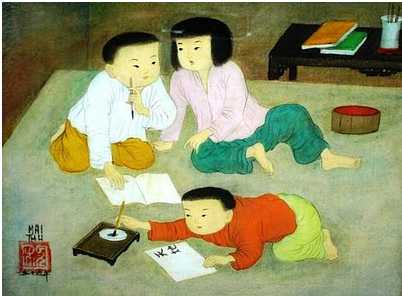 3. Daily life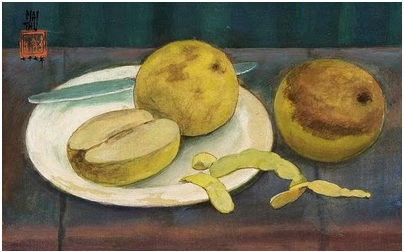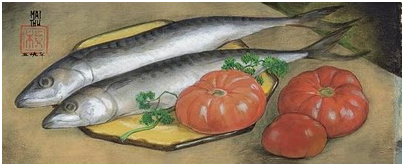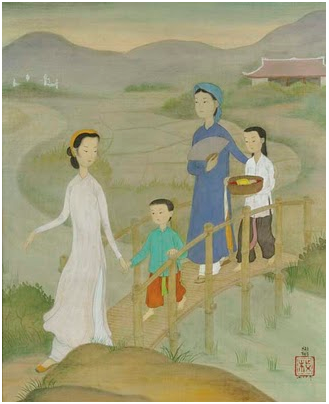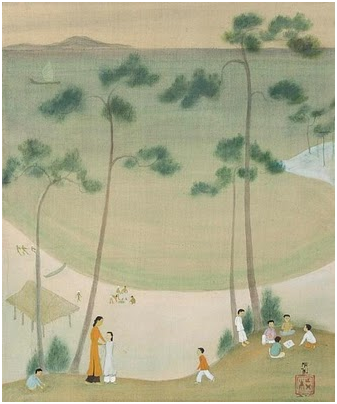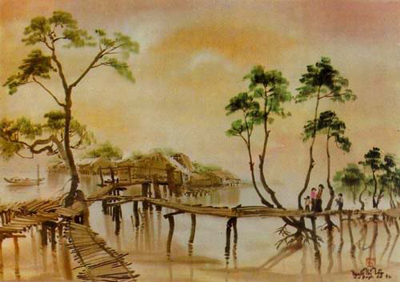 Although Mai Trung Thu lived far from Vietnam for over half of his life, he strived for the development of the domestic art.